ABOUT
Exchange is an arts organisation based in West London, that offers
a free, two month, intensive residency program
to recently graduated and early career artists. We p
rovide support for early career artists, focusing on development of practise and critical discussion.
Exchange also publishes
The Exchange
, a quarterly arts publication, which
showcase the work of a number of artists, and covers a range of topics, including reviews and critical essays, observations on modern art culture and London, and discussions of current themes relevant to the art world.
We are creating an inclusive platform that encourages discussion, the exchange of ideas, contemporary culture, and creative values.
Exchange is based in The Cellar FA, the event space at The Finborough Arms. Built in 1868 by Corbett and McClaymont to a design by archictect George Godwin, it's presence in Earl's Court is both striking and distinctive. In conjunction with The Finborough Arms, we are creating a cultural hub in West London.
We seek engaging, daring work that reacts to the cultural fabric of the pub and the busy nature of the space. We wish to showcase the work of new and aspiring artists, offering an exhibition space to those both critically aware and practically capable. The residency programme caters to the individual needs of each artist; assistance will be provided for show build and exhibition, as well as critical support.
We call to early career artists; specifically students and those recently graduated. We are open to a diverse range of candidates, including, but not limited to: film, sculpture, painting, mixed media and installation.
For those who apply, it is strongly recommended that you visit.
APPLICATION
- An artist statement outlining your practise and interest in the residency
- A proposal of new work
- Supporting material; you are welcome to send images, small videos and links.
​
Please send application by email to
info@exchangeproject.co.uk
with the subject line '
Exchange Residency'
For all zine enquiries and submission send
work by email to info@exchangeproject.co.uk with the subject line 'Exchange Zine'
Exchange is run by James Sirrell and Joshua Vaughan

.
​
Powered by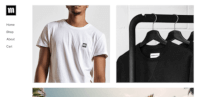 Create your own unique website with customizable templates.