EXCHANGE RESIDENCY - MARK GOLDBY
The Exchange residency continues with Mark Goldby; a postgraduate of Wimbledon College of Arts. As well as preparing work for an exhibition on Thursday June 15, Mark has taken over the
Exchange instagram
, exposing his work and process, and showcasing work of other artists that have some relevance.
'I make uncanny objects, strange organic forms like large pieces of petrified skin or cancerous growths, things that ooze, drip and sweat and yet remain deadly still. My work points to the visceral and chthonic yet remains entirely man-made, constructed out of digital images, plastic and wax. This dichotomy of organic and inorganic has led to my interest in the cyborg, the android and the uncanny valley phenomenon. As we continue to upload our consciousness into the digital landscape and construct virtual identities, we reach an in-between state where the self is both digital and physical - we are becoming post-human. ​

Most recently I have been inspired by the skin as a giant living organ which can be explored for its relevance in the digital and physical. I have been looking at the boundaries of the inside and outside and conceptualising the skin as a digital screen that protects and conceals the inner workings. By digitising my skin I can explore its aesthetic possibilities before converting it back into the physical to create a hybrid skin, ready to be grafted and moulded.​

Tactility is a quality I value in my sculptural processes and I choose materials that can be shaped and formed by hand. When I am making I rely on my creative instinct to mould the material, drawing on a primitive instinct to craft. The finished results are visceral but oddly recognisable, like how we imagine an organ to look in our own bodies, and at this point of morbid curiosity we are connecting through our common experience of being in possession of living bodies.' -
Mark Goldby

​
You can find more of Mark Goldby's work on his
instagram.
Images courtesy of Mark Goldby
On Thursday 16th June 2016, The Finborough Arms and Exchange hosted Ectopia, the first solo exhibition from Mark Goldby.

'Ectopia has been a therapeutic process combining instinctual making with person-centred post rational analysis. Through curation it has become clear that I am driven by dichotomies and a hesitation to step into the middle ground. By pulling apart these aspects of my self during this residency, I have been able to begin confronting some of my deepest fears regarding my identity as both a human being and an artist, and I plan to continue following this journey by doing that which scares me the most.' - Mark Goldby
​
Powered by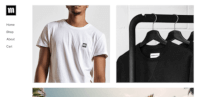 Create your own unique website with customizable templates.